Rupee Close: The Indian currency ended higher on Wednesday amidst positive equity markets. The rupee settled at 73.76 against the US dollar as compared to Tuesday's close of 73.85.
Angel Broking IPO allotment: Here's how to check your status
The Rs 600-crore initial public offering (IPO) of Angel Broking was overall subscribed 3.94 times on its final day. It was open for subscription between September 22 and 24. The price band was fixed at Rs 305-306.
It is likely to be listed on October 5. Moreover, the retail portion received 4.31 times subscription  while qualified bidders subscribed 5.74 times.
On BSE & Link InTime
You can also check your IPO allotment status on the BSE website here: https://www.bseindia.com/investors/appli_check.aspx.
Select 'Equity' and then from the dropdown, select issue name- 'Angel Broking'. Please note the company will only appear once the allotment is done.
Enter your 'Application Number' and 'PAN Card No' and click Search.
Applicants can also visit the Registrar website (Link Intime) to check status. Note: Zerodha doesn't provide IPO allotment status.
Just In | India's current account balance recorded a surplus of $19.8 billion (3.9% of GDP) in Q1FY21 on top of a surplus of $0.6 billion (0.1% of GDP) in the preceding quarter, i.e. Q4FY20; a deficit of $15 billion (2.1% of GDP) was recorded a year ago i.e. Q1FY20, says RBI.
Update | NTPC signs MoU with Power Ministry detailing targets for FY 2020-21. Generation target has been set as 340 BUs, capex target at Rs 21,000 crore and revenue target at Rs 98,000 crore.
Housing sales fall 46% in July-Sep; 57% in Jan-Sep on low demand amid COVID
India's top seven cities witnessed 46 percent drop in sales of residential properties during the July-September quarter at 29,520 units, amid muted demand due to COVID-19 pandemic, according to property consultant Anarock. Housing sales in July-September 2019, stood at 55,080 units across Delhi-NCR, Mumbai Metropolitan Region (MMR), Kolkata, Chennai, Bengaluru, Hyderabad and Pune.
During the January-September period this year sales have declined by 57 percent to 87,460 units, from 2,02,200 units a year ago. Commenting on the numbers, Anarock Chairman Anuj Puri said sales during July-September have more than doubled from the previous quarter when the coronavirus pandemic had brought sales down to just 12,730 units. Read more here.
Mazagon Dock Shipbuilders IPO: Retail book subscribed 4.8 times on second day, total issue about 2 times
Mazagon Dock Shipbuilders IPO has been subscribed about 2 times on the second day of the initial public offering. At 12:48 pm, the issue of the state-owned defence firm 's retail book was subscribed about 5 times.
The number of shares reserved for retail investors was 1,05,88,725 and the bids received till now are 5,15,26,986 shares, as per the NSE data. Meanwhile, the total issue has been  subscribed 1.81 times, as it received bids for 5.5 crore equity shares against an offer size of 3.05 crore shares, data available on the exchanges shows.
According to the company's RHP (red herring prospectus), one can bid for a minimum of 103 equity shares and in the multiples of 103 thereafter.
The price band of the IPO is fixed its IPO price band at Rs 135-145. It is expecting to raise about Rs 413 crore at the lower price band and Rs 444 crore at the upper price band.
The initial public offering (IPO) of 3,05,99,017 equity shares of the state-owned defence company is an offer for sale by the government. As many as 3,45,517 shares have been reserved for eligible employees. The total offer will constitute 15.17 percent of the post-issue paid-up equity.
Sameet Chavan, Technical Analyst at Angel Broking:
"For the third straight session, our markets opened with an upside gap owing to favorable cues from the global bourses. In the initial trade, Nifty reclaimed the 11300 mark which was broken severely last week. However, unlike the last couple of sessions, the bulls looked a bit tentative at higher levels, which resulted in a healthy intraday correction around the mid session. This was followed by almost complete recovery in the penultimate hour, which again got sold into to conclude the day on a flat note.
After two days of spectacular recovery, the market took a breather yesterday; however, the volatility was slightly on the higher side. Technically there is a reason for this tentativeness around the 11,300 mark.The previous breakdown point of the 'Triangle' is placed around it and importantly, the 61.8% retracement of the recent fall from 11,618.10 to 10,790.20 precisely coincides around the same mark. Hence, we continue to consider 11,250-11,350 as a sturdy wall for a time being. For the coming session, we are likely to see further weakness once Nifty sustains below 11,180 to retest 11,100 – 11,000 levels. Hence, it's better to stay light and avoid getting carried away by such intermediate recoveries. 
On the sectoral front, the IT showed some strength yesterday along with Metal counters and mighty RELIANCE. They helped NIfty defend its key support yesterday; whereas the dragger banking space provided selling pressure at higher levels. Although, individual themes are playing out well but we still advocate refraining from creating aggressive bets (overnight)."
Stock Update: Indiabulls Housing Finance's shares surged over a percent higher to Rs 154.15 per share on the NSE after it raised about Rs 630 crore by selling a portion of its stake in OakNorth Holding, the wholly owning parent company of OakNorth Bank, to TEMF Limited, a fund managed by Toscafund Asset Management for Toscafund Asset Management LLP.
With the latest stake sale, the company has raised a total of Rs 1,832 crore as fresh equity in September 2020 (Rs 683 crore through QIP and Rs 1,149 crore through sale of stake in OakNorth) adding to the regulatory equity capital of the company. "The sale proceeds will be accretive to the regulatory net worth and the CRAR (Capital to Risk weighted Assets Ratio) of the company," the company said in a regulatory filing.
Technical Expert View: "We expect more such investments by strategic and financial investors in Reliance Retail in the future. We maintain our positive view on Reliance industries Ltd. and expect that the digital and the retail business will be the future growth drivers for the company. We continue to maintain our buy rating on reliance Industries with a target of ₹ 2,543", Jyoti Roy, Equity Strategist, Angel Broking.
When nothing else glitters, it is all gold
The uncertainty, it is said, is the only certainty in life. You can add one more to the list: a rise in prices of gold when the economic outlook loses glitter. Gold prices have steadily risen since the second half of 2018, breaking all previous records, on the back of sputtering economic activity. But the virtual decimation of global economy due to the COVID-19 pandemic has been unprecedented. And quite predictably, by August this year, gold prices zoomed to a whopping $2070/oz before cooling off a bit.
This article attempts to uncover the reasons for this sharp rise in the prices of the yellow metal. But before I go there, let us rewind to the period between 2008-2011. Read more
RIL shares gain 1% on General Atlantic-Reliance Retail deal announcement
The share price of Reliance Industries (RIL) gained 1 percent in the early trade on Wednesday after it announced that US-based private equity firm General Atlantic Partners will invest Rs 3,675 crore in its retail subsidiary Reliance Retail Ventures.
General Atlantic's investment will translate into a 0.84 percent equity stake in Reliance Retail Ventures (RRVL) on a fully diluted basis, the company said. The investment values Reliance Retail at a pre-money equity value of Rs 4.28 lakh crore, slightly higher than the previous two deals done at a valuation of Rs 4.21 lakh crore.
This is the third strategic investment in the retail unit of Reliance Industries within a month and the second investment by General Atlantic after a Rs 6,598.38 crore investment in Jio Platforms, the digital arm of the energy-to-retail conglomerate. Click here to read more
#OnCNBCTV18 | Gagan Banga of Indiabulls Hsg Fin says 'Been a passive investor at Lakshmi Vilas Bank, will not intervene in process its revival.'

Will be sitting on Rs 12000 cr of cash in balancesheet, he adds. pic.twitter.com/hByUF91YcH

— CNBC-TV18 (@CNBCTV18Live) September 30, 2020
VA Tech Wabag's shares rally over 7% after 50 lakh shares allotment to Rekha Jhunjhunwala
The shares rallied over 7 percent on Wednesday after the company allotted 5 million shares (Rs 80 crore) to Rekha Jhunjhunwala, wife of ace investor Rakesh Jhunjhunwala via preferential basis. The stock rose as much as 7 percent to Rs 204.8 per share on the NSE. However, at 10:30 am, the stock lost some steam to trade over 3 percent higher to Rs 197.25.
The company had earlier decided to raise funds worth Rs 120 crore via preferential basis.
The company in its exchange filing said, "Board of directors approved the issue and allotment of 75 lakh equity shares of face value of Rs 2 each, for cash, at a price of Rs 160 per equity share aggregating to Rs 120 crore by way of preferential issue to four investors."
Therefore, on Tuesday, the company's Board had allotted 50 lakh shares to Rekha Rakesh Jhunjhunwala, 15 lakh shares to Basera Home Finance, and 10 lakh shares to Sushma Anand Jain and Anand Jaikumar Jain.
Rupee Open: Indian rupee opened flat at 73.82 per dollar on Wednesday against previous close of 73.82, amid selling seen in the domestic equity market.
Nifty Pharma Index was trading 1 percent higher led by gains in Cadila Healthcare, Dr Reddy's Laboratories and Cipla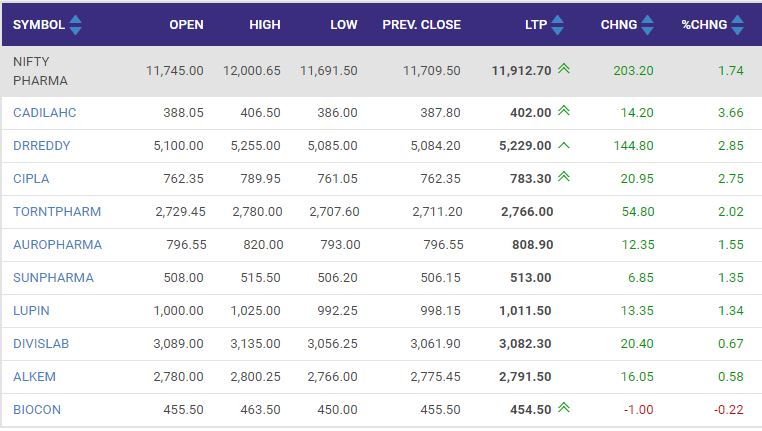 Buzzing | Va Tech Wabag shares rallied over 6 percent after the announcement that Rekha Rakesh Jhunjhunwala, wife of ace investor Rakesh Jhunjhunwala, will invest Rs 80 crore in the company. The company has decided to raise Rs 120 crore via preferential issue, and on September 29, finalised the allotment of equity shares on a preferential basis.
Technical View | The Nifty is still below the 11,350 level which means it is still within the bearish zone. It will turn bullish only when it is successful in closing above the 11,350 levels. Until then traders could consider a favourable risk-reward ratio trade and look for opportunities to short the index at these levels for a target of 10,800 and a stop loss above 11,350, says Manish Hathiramani, Proprietary Index Trader and Technical Analyst, Deen Dayal Investments.
Robust returns: This pharma stock turned Rs 1 lakh to Rs 1.85 crore in 10 years
Caplin Points Labs has been a strong long-term performer giving robust return and steadily rising in the last 10 years. The pharma stock which traded around Rs 3 in 2010 has surged over 18,400 percent to quote at Rs 556 currently. To put it into perspective, an investment of Rs 1 lakh in the stock in 2010 would now be valued over Rs 1.85 crore currently.
In the last one year as well, the stock has risen 35 percent and 95 percent in 2020 amid a general rise in the pharma stocks due to the coronavirus pandemic. In comparison, benchmark Nifty fell 2.5 percent during the last one year and has declined 8 percent since the beginning of this year. Read more
Market opens lower, Nifty around 11,200; banks slip, IndusInd Bank top loser
Indian equity benchmark indices opened flat on Wednesday as gains in pharma and FMCG stocks were countered by selling in financial stocks amid mixed global cues.
At 9:15 am, the Sensex opened 0.25 percent, or 95.67 points, higher at 38,068.89, while the Nifty50 index opened at 11,244.45, up 22.05 points, or 0.20 percent.
Broader markets gained with Nifty Smallcap100 and Nifty Midcap100 trading 0.2 and 0.3 percent higher, respectively.
Among sectoral indices, the Nifty PSU Bank, Nifty Financial Services, Nifty Metal ad Nifty Private Bank declined while Nifty FMCG, Nifty Pharma, Nifty Auto and Nifty Media were trading in the green.
Before the opening bell, it's important to know 10 things that could affect the Indian market today. Click here to read!
US Market: Stock futures turn negative amid virus treatment news, US presidential election
U.S. stock futures traded flat on Tuesday night as traders digested positive data regarding a potential coronavirus treatment from Regeneron Pharmaceuticals as well as the first U.S. presidential debate. 
Dow Jones Industrial Average futures were down 7 points, or 0.03 percent, after jumping more than 150 points earlier. S&P 500 and Nasdaq 100 futures were also little changed.
Futures rose slightly during the debate, but quickly gave up most of that ground once the debate was over. It wasn't clear whether the gyrations were related to the contentious comments being traded back and forth by the candidates. Traders are hoping that the start of the debate process will lead to a clear winner on Election Day and not a drawn-out electoral process that could hit the market. (Source: CNBC International)
General Atlantic to invest Rs 3,675 crore in Reliance Retail
US-based private equity firm General Atlantic will invest Rs 3675 crore in Reliance Retail Ventures for a  0.84 percent stake, the third strategic investment in the retail unit of Reliance Industries Ltd (RIL), within a month.
Reliance Retail Venture's subsidiary Reliance Retail operates India's largest retail business serving close to 640 million footfalls across its 12,000-odd
stores nationwide in 7000 cities.
The investment values Reliance Retail at a pre-money equity value of Rs 4.28 lakh crore, slightly higher than the previous two deals done at a valuation of Rs 4.21 lakh crore. Read more
Likhitha Infrastructure IPO: Issue fully subscribed on Day 1
The initial public offer of Likhitha Infrastructure has fully subscribed on the first day of the bidding process, September 29.
The IPO of Likhitha Infrastructure, the Hyderabad-headquartered oil and gas pipeline infrastructure service provider, has received bids for 51.35 lakh equity shares against offer size of 51 lakh equity shares, according to the data available on the exchanges.
The portion set aside for retail investors has been subscribed 2.5 times while the portion reserved for qualified institutional buyers has subscribed 1.8 percent. The non-institutional investors' portion received 84.95 percent subscription so far.
The price band of the issue, which will close on October 1, has been fixed at Rs 117-120 per share. Here's more




www.cnbctv18.com- – 2020-09-30 08:51:49