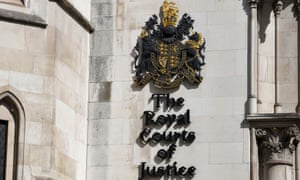 The UK high court has handed down an eagerly awaited, and quite complex, ruling on whether insurers should pay out to businesses forced to shut during the pandemic.
The test case was brought by the UK's financial watchdog, the Financial Conduct Authority, against eight insurers. It acted after thousands of firms complained that their insurers refused to cover losses, despite selling them business interruption insurance which included clauses on 'disease' and 'denial of access'.
The 162-page report is being analysed now by lawyers, to see exactly what the ruling means.
But according to the FCA, the court has found in favour of the arguments advanced for policyholders on "the majority of the key issues".
That should mean that more businesses can claim compensation for the disruption suffered over the last six months.
Christopher Woolard, Interim Chief Executive of the FCA, explains:



'We brought the test case in order to resolve the lack of clarity and certainty that existed for many policyholders making business interruption claims and the wider market. We are pleased that the Court has substantially found in favour of the arguments we presented on the majority of the key issues.

Today's judgment is a significant step in resolving the uncertainty being faced by policyholders. We are grateful to the court for delivering the judgment quickly and the speed with which it was reached reflects well on all parties.
Woolard adds that today's judgment "removes a large number of those roadblocks to successful claims", as well as clarifying which claims won't be successful.
He's urging insurers to take note, and pay out claims quickly where appropriate, so that jobs can be saved.



'Insurers should reflect on the clarity provided here and, irrespective of any possible appeals, consider the steps they can take now to progress claims of the type that the judgment says should be paid. They should also communicate directly and quickly with policyholders who have made claims affected by the judgment to explain next steps.
However, it's not immediately clear how many customers will benefit.
Insurance group Hiscox, for example, has just told its shareholders that it believes the extra bill from Covid-19 will be "less than £100 million", adding:



The Judgment clarifies that fewer than one third of Hiscox's 34,000 UK business interruption policies may respond. Coverage under these policies is essentially limited to those customers who were mandatorily closed by Government orders, and then only in certain circumstances.
Hiscox's shares are now up 15%, after initially falling when the judgement came out.
However, campaigners demanding the insurance industry meets its obligations are hailing a historic victory.
The Hiscox Action Group says:



The High Court ruling means that hundreds of Hiscox Action Group members who were forced to close their premises during the pandemic should now receive an insurance pay out from Hiscox Insurance.


news.google.com- – 2020-09-15 13:52:00